GLUTEN FREE – White Bread
The product is sold frozen and shipped following the regulations of the cold chain. Shelf life: 20 days at a controlled temperature.
Weight: 200 g
Quantity per package: 2 pcs
Quantity per box: 4 pcs.
Without milk, without lactose.
Available on back-order
Out Stock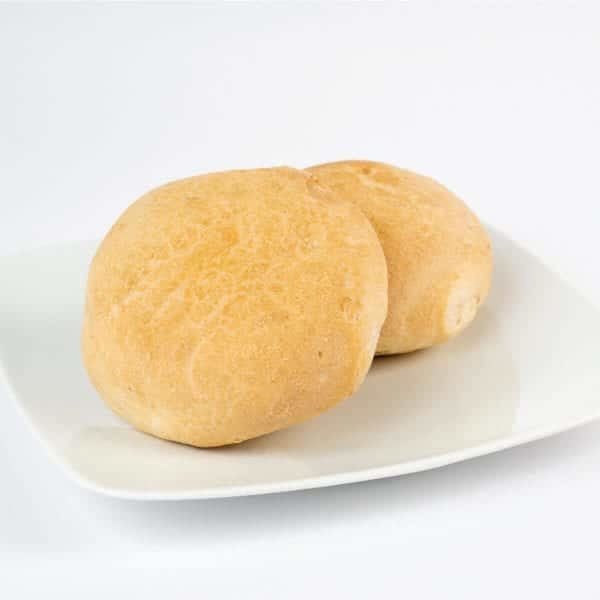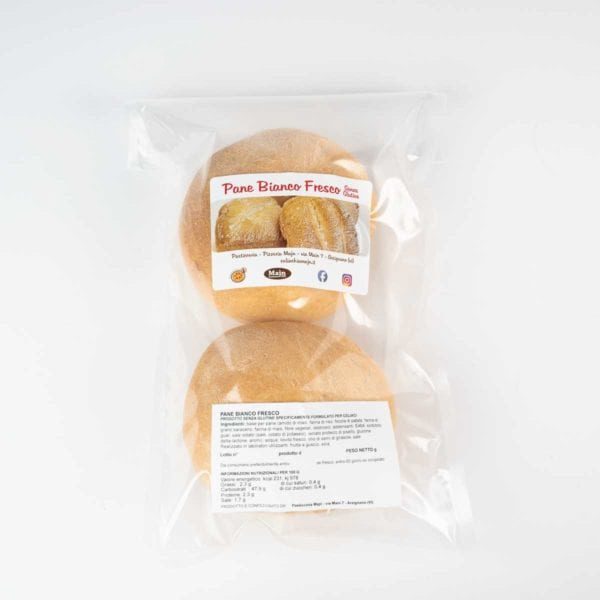 GLUTEN FREE – White Bread
Description
GLUTEN FREE – White Bread
At "Pasticceria Majn" workshop we produce high quality gluten free products since 1980.
The whole production takes place in uncontaminated and certified gluten-free environments.
Our handmade products are the result of continuous research and constant training, which combined with a deep knowledge of the pastry and bakery art, allows us to obtain unique products for goodness and quality.
We use high quality raw ingredients and semi-finished products, purchased from suppliers who guarantee their suitability for the entire production process.
Needless to say, all produts and ingredients are 100% Made in Italy.
Product Details
Majn Gluten Free White Bread is a high quality product that has nothing to envy of the traditional bread.
It is a handmade product composed of first choice ingredients, exclusively Made in Italy.
The process starts with a natural leavening in a controlled temperature environment. Subsequently, the loaf forming phase takes place manually, followed by a slow baking.
The resulting product is a soft bread, slightly crunchy and lightly browned, pleasing to the eye and the palate.
Majn Gluten Free White Bread is ideal to accompany your meals, your snacks and your breaks at work.
Choose a tasty and genuine food: the entire process is carried out in workshops without any gluten contamination.
Ingredients
Corn starch, water, rice flour, potato starch, buckwheat flour, corn flour, vegetable fiber, dextrose, hydropropylmethylcellulose, sorbitol, guar, iodised salt, potassium iodate salt, pea protein isolate, glucone delta lactone, aromas, fresh yeast, sunflower oil. Made in laboratories using: nuts, soy.
Nutritional values
Energy value: 231 kcal, 978 kj
Fats: 2.3 (of which saturated: 0.4 g)
Carbohydrates: 47.9 g (of which sugars: 0.4 g)
Proteins: 2.3 g
Salt: 1.7 g
Additional information
| | |
| --- | --- |
| Weight | 2 kg |
| Dimensions | 30 × 30 × 20 cm |
Only logged in customers who have purchased this product may leave a review.
Shipping Policy
10 Delivery 10.1 Your order will be fulfilled by the estimated delivery date set out in the Order Confirmation, unless there is an Event Outside Our Control. If we are unable to meet the estimated delivery date because of an Event Outside Our Control, we may contact you with a revised estimated delivery date. 10.2 Delivery will be completed when we deliver the Products to the address you gave us. 10.3 The Products will be your responsibility from the completion of delivery. 10.4 You own the Products once we have received payment in full, including all applicable delivery charges. 11 International Delivery 11.1 We deliver to the countries set out on each Seller Shop (Delivery Destinations). However there are restrictions on some Products for certain Delivery Destinations, so please review the information on each Seller Shop together with the associated costs carefully before ordering Products. 11.2 If you order Products from the Site for delivery to a Delivery Destination which is international, your order may be subject to import duties and taxes which are applied when the delivery reaches that destination. Please note that we have no control over these charges and we cannot predict their amount. 11.3 You will be responsible for payment of any such import duties and taxes. Please contact your local customs office for further information before placing your order. 11.4 You must comply with all applicable laws and regulations of the country for which the Products are destined. We will not be liable or responsible if you break any such law.
Return Policy
9 Your Consumer Right Of Return And Refund This clause 9 only applies if you are a consumer. 9.1 If you are a consumer, you have a legal right to cancel a Contract under the Consumer Protection (Distance Selling) Regulations 2000 during the period set out below in clause 9.3. This means that during the relevant period if you change your mind or for any other reason you decide you do not want to keep a Product, you can notify us of your decision to cancel the Contract and receive a refund. Advice about your legal right to cancel the Contract under these regulations is available from your local Citizens' Advice Bureau or Trading Standards office. 9.2 However, this cancellation right does not apply in the case of: 9.2.1 any products made to your specification, clearly personalised, custom-made or commissioned in any way; 9.2.2 newspapers, periodicals or magazines; 9.2.3 perishable goods, such as food, drink or fresh flowers; 9.2.4 software, DVDs or CDs which have a security seal which you have opened or unsealed.. 9.3 Your legal right to cancel a Contract starts from the date on which we dispatch the Product(s) to you, which is when the Contract between us is formed. If the Products have already been delivered to you, you have a period of 7 (seven) working days in which you may cancel, starting from the day after the day you receive the Products. Working days means that Saturdays, Sundays or public holidays are not included in this period. 9.4 To cancel a Contract, please login to your customer account ("Customer Account") here: Customer Account Login, find the order from the list of recent orders, locate the specific product(s) and select the cancel option to begin the process. Your cancellation is effective from the date you submitted the cancellation through the system on the Site. 9.5 You will receive a full refund of the price you paid for the Products and any applicable delivery charges you paid for. We will process the refund due to you as soon as possible and, in any case, within 14 calendar days of the day on which you gave us notice of cancellation as described in clause 9.4 provided that we receive the returned Product(s) in the condition you received them/it in. If you returned the Products to us because they were faulty or mis-described, please see clause 9.6. 9.6 If you have returned the Products to us under this clause 9 because they are faulty or mis-described, we will refund the price of a defective Product in full, any applicable delivery charges, and any reasonable costs you incur in returning the item to us. 9.7 We will refund you on the credit card or debit card used by you to pay within 14 days of you requesting the refund through the online system, provided that where you are due to return the Product(s) to us, you have done so within 14 days of the Seller requesting that you do so. 9.8 If the Products were delivered to you: 9.8.1 you must return the Products to us as soon as reasonably practicable. If the Products require collection, we may arrange to collect the Products from the address to which they were delivered. We will contact you to arrange a suitable time for collection; 9.8.2 unless the Products are faulty or not as described (in this case, see clause 9.6), you will be responsible for the cost of returning the Products to us or, where relevant, the cost of us collecting the Products from you. Where a collection is possible, we will confirm the charges for a collection of the Products before arranging a collection with you; 9.8.3 you have a legal obligation to keep the Products in your possession and to take reasonable care of the Products while they are in your possession. 9.9 Details of your legal right to cancel and an explanation of how to exercise it are provided in the Order Confirmation. 9.10 As a consumer, you will always have legal rights in relation to Products that are faulty or not as described. These legal rights are not affected by the returns policy in this clause 9 or these Terms. Advice about your legal rights is available from your local Citizens' Advice Bureau or Trading Standards office.
No shipping rates are available for this product.